After our long drive up North, we stopped for a late lunch and decided to browse around and shop a bit before heading to D's Aunt's home, where we would stay for our first evening. We picked up a sweet Martha cable blanket in red (on sale of course)- perfect for the holidays!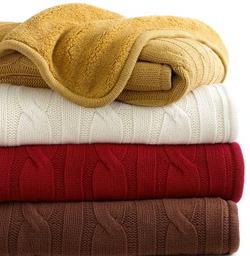 We spent our first evening catching up with family, it was a good time! Thanksgiving was the next day, and it was beyond relaxing! It actually felt awesome to be a guest at someone else's Thanksgiving which left the day open for relaxing and enjoying the awesome food. Charlotte and Paul cooked an unbelievable spread! We helped decorate the exterior of her home with Christmas decor (her tradition on Thanksgiving), and it was all a good time. We even braved the crowds at Michaels later in the evening to take advantage of those awesome crafting deals!
Don't we look like a couple of kids among these fab adults?
That evening we drove to Steve (D's cousin) and Paul's home. They were great hosts to allow us to stay with them and Paul even made us an amazing breakfast the morning before we left- a Creme Brulee French Toast, ahhhhhh, it was AMAZING! I got the recipe from him and will try my hand at it soon!
The evening we got there, Paul allowed me to go through his fabric stash to snag some things for projects and Etsy orders- too sweet. We then got to talking about a place named Scrap in SF where you can go and pick up all types of things for super cheap! It sounded like a "must do", so the next morning we headed over there and D's grandma met us as well.
Down an ally in SF
Crazy Excitement!
So basically Scrap ended up being like a huge garage sale! You weed through the place and pick up whatever you'd like, pile it in a bag and when you'd done, you take it up to the front and they provide you with a set price for the whole bag, or bags. Awesome! I scored lots of fabric remnants, stencils, tape, ribbon, and a coffee table surf book for a whooping $15. Score.
I then headed to the Dicken's Fair with D's grandma while the guys went to the Car Show. We weren't at the fair too long, so she drove me around the city while the guys were enjoying the show. We drove by the Bay Bridge, down toward the piers, and over the Golden Gate Bridge into Sausalito. If I were to live up North, it would be in that city for sure! Such a cute waterfront town (expensive as well), with an amazing view across the water of the city. Loved it.
We all met up in the city for dinner, but stopped at Ciao Cupcakes first to take a few home
Then had dinner at the Urban Lounge/Tavern - yum!
I got Mac and Cheese- no surprise
D got Swordfish
We walked around for a bit after dinner, the city was amazing at night. It was packed (being that it was Black Friday), and the stores were jammed with shoppers. We went in Macy's Home Store and I admired their display window.
To cap off the evening, Steve drove us up to Twin Peaks to get an overall view of the entire city! It was freezing cold, but a gorgeous view, honestly so beautiful. I know my camera couldn't handle the evening darkness, so the memory remains in my mind. From what we hear, there aren't too many clear days around this time of year to view the city as we did, so we were very grateful in that aspect.
The next morning we woke up, had an amazing breakfast that Paul baked, and were off back home. It was a quick trip, but was full of memories and fun times!